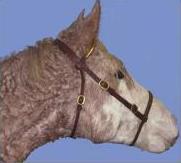 click on image to enlarge
More pictures of Queen
*Walker's Queen B
.
Sorrel sabino mare, f. 1995, ICHO 471-D, ABC 2012, MFTHBA 95-47305.
Breeder: Johnny Brooks, MO.
Previous owner: Chester Clark, MO.
.
Sire: *Walker's Prince T no. II
Dam: *Annie's Rose Bud T
.
For pedigree, go to Queen's pedigree on allbreedpedigree.com, eller Queen's pedigree on curlyhorses.info
.
OFFSPRING:
.
Foaled 9th of June 2001 a colt by: *Sir Patrick MJT (Zane's Big Mac x *Lad's Curly Queen). More about *Missouri Dream
.
Foaled 23th of May 2002 a filly by: *Stormy's Northern Light (*TEOC Stormy Charmer x *Col's May Jorette). More about *Indiana Dream
.
Foaled 28th of June 2003 a colt by: *Cherokee's Black Hawk (*Shenandoah Cherokee x *Apache's Ebony Girl). *Wyoming Dream.
.
Foaled 4th of June 2005 a filly by: *Texas Dream (*Stormy's Northern Light x LS Sassey Lady). More about *Nevada Dream.
.
Foaled 28th of May 2006 a filly by: *Kansas Dream Tragically the foal was stillborn due to placentitis.
.
Foaled 4th of June 2009 a colt by *Pirate's Little Buccaneer EB. More about *Wisconsin Dream. .
Foaled 14th of June 2010 a colt by *SS Walcurly Prince Trevino. More about *New York Dream. .
Foaled 21st of June 2012 a filly by *ZGC Durango. More about *Utah Dream will come later.

Queen is a medium sized mare (14.3 hh), and very well put together. She is trained to ride and drive, and is very sweet and calm horse. I can put kids and beginners on her back with no worries. She has displayed the following gaits in addition to walk, trot and gallop; flat walk, foxtrot, running walk, stepping pace, rocking chair canter, speed rack and flying pace. Queen is one of the few dominant Curly Horses also registered in the Missouri Fox Trotter Horse Breeders Association, and one of only two such mares in Europe. More about the versatile Missouri Fox Trotting Horse.
.
Queen is of pure Curly Jim bloodline, top and bottom, she is linebred on Walker's Prince T, the most important foundation stallion of the fox trotting Curly Horses. Her sabino pinto pattern and roaning is very rare in Norway, she is almost pink with white legs and face. She has big curls in the winter and a smooth summer coat. Her long thick mane and tail are mostly straight and does not shed at all, it's getting longer for every year. But even in the summer it is easy to see she is a Curly from the curls inside her ears, her curly forelock and very curly fetlocks.
.
Queen is our best brood mare conformationally. She always produces foals that are very correct and well built, AND with excellent temperaments. Her two oldest sons has been inspected and approved at stallion inspections, and both her daughters have been exported, finally her 2009 and 2010 sons have been inspected and approved at young stock inspection.
.
Finally, at 17 years of age, in 2012, we showed Queen at an official mare inspection. She was awarded a 1st Premium grade and the grade A for offspring. First Curly ever to get the top grade I believe!